Welcome to Controlled Landscape, Mid Florida's Premier Tree Service and Landscaping Company. Serving the Tampa Bay Area for over 25 Years.
Call us for your next project and Take Control of all your Tampa Bay Landscaping Needs!!!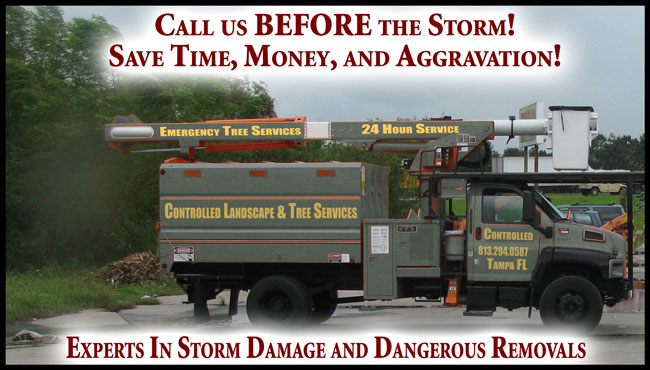 1. Should you ever cover an exposed tree root or roots? * Normally, roots are usually on the surface due to the nature of the tree or soil compaction. No more than 4" of soil should ever be used to cover roots.
2.What is the white webbing on the main trunks and branches of the tree? * This webbing is from a harmless psocid, which eats algae off the outer bark of the tree. It can be washed off with a water hose.
3. Is there something you can do to keep moss growth down? * Spanish and ball moss in our trees is natural and will limit itself in a healthy tree.
4. Should you fill or cover holes in trees? * No, do not fill cavities in trees. It creates hidden areas for insects and disease and adds no structural integrity to the tree.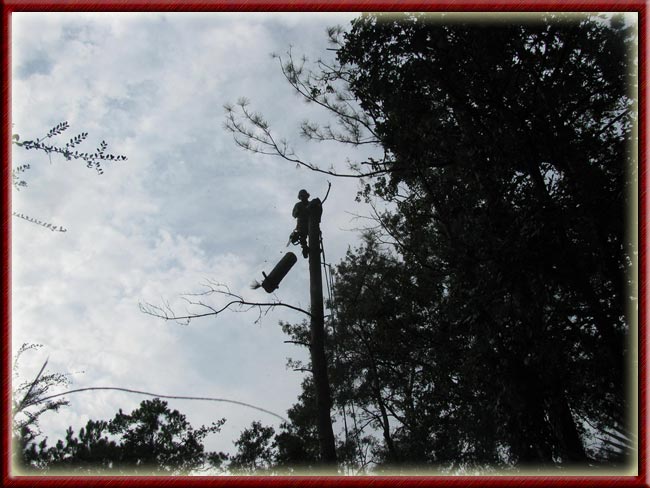 False Crotching Heavy Logs is a Safe Way of Removing Dangerous Damaged Trees.
5. What is a good time of year to fertilize citrus and spray? * Citrus should be fertilized (3) times per year (spring, summer, fall) and should be sprayed only when necessary.
6. What is the best time of year to trim trees? * Trees can be trimmed year round. Regardless of the season an arborist can perform the required care.
7. How do you get rid of moss? * A percentage of moss comes out with normal pruning, but it is natural to have some of this air plant in your tree. Removing all the moss can be expensive and many times do more damage than good.
8. How much sucker growth is removed when pruning? * Sucker growth is removed in approximately 1/3 of the tree. Over pruning can cause sun scald to your tree.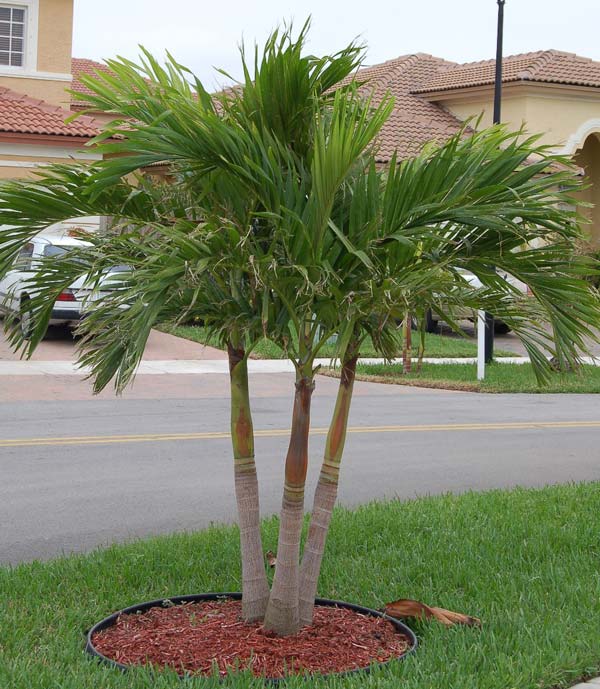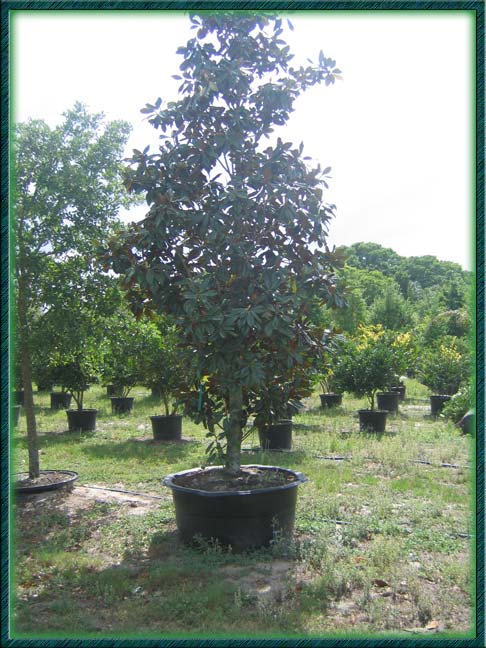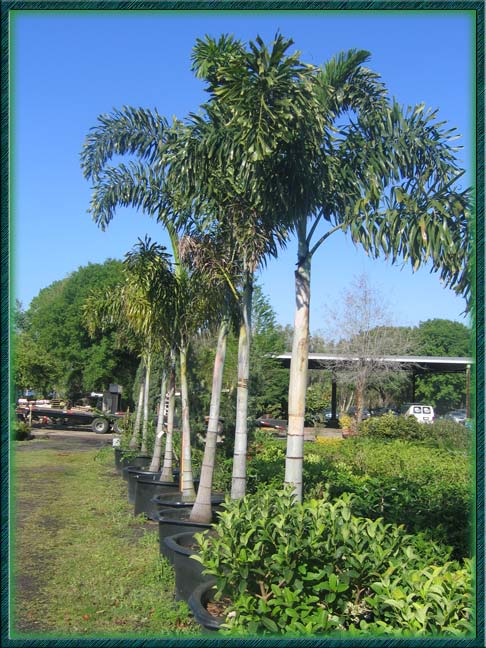 This is a small sampling of the many tree types we have available for enhancing your landscape designs. Shown above are the Adonidia Palm ( Christmas Palms ) ,Magnolia Tree ( Little Gem ), and the Foxtail Palm. Call us for any other palms your interested in. We have a wide variety of other palm trees available that are suitable for the Tampa Bay Florida area climate.
9. Should cuts be treated or painted? * Cuts do not need to be treated or painted. When a proper cut is made the trees natural healing process works best.
10. Do you transplant trees? Yes, We transplant ALL trees.
11. Will the tree continue to grow if I don't have the stump ground? * Many trees will sprout back from the stump. It is best to grind or treat with herbicide.
12. What is the best way to get ride of a stump? * The best and most economical way is to grind the stump below grade.
13. Does moss hurt trees? * Moss, being an air plant will not hurt a healthy tree. It is not parasitic (like mistletoe which will spread and kill a tree) and simply attaches itself to the exterior bark.
14. Do you top trees? * We do not top trees. Topping damages a tree and can create a dangerous and expensive situation.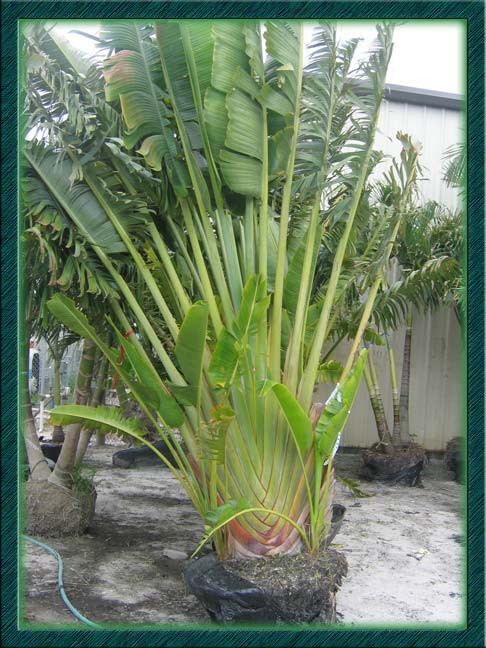 Travelers Palms, are popular across Tampa Bay Florida. Call us at 813-294-0587 today for pricing and availability. Let us help you integrate Travelers Palms into your next Tampa Bay Florida landscaping project.
15. How low does a stump have to be before it can be ground? * Our stump grinders can handle stumps that are up to 10" above grade.
16. Will tree roots grow under my House, patio, or sidewalk? * Roots will not generally grow under your home due to the footer of the foundation is deep enough to prevent their spread. Patios, walks, and drives typically do not have a footer and roots can easily spread under slabs uplifting and cracking them.
17. How often do trees need to be pruned? * The average pruning cycle for a shade tree is 3 years.
18. How high should a tree be elevated above the roof? * Limbs should be raised to a height of 6-8' (6 to 8 feet) to keep down growth from hitting the roof for 3 to 4 years.
19. Will moss kill trees? * Moss in itself will not kill trees, but in stressed trees it may tend to compete with foliage and further weaken the tree.
20. Will mistletoe kill trees? * Mistletoe is a parasite and draws nourishment directly from the tree. It will kill your tree if left unchecked.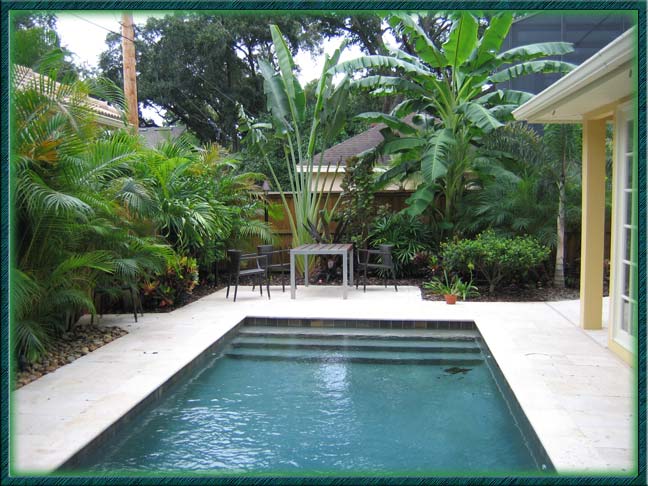 In tight areas where planting beds are limited to space, various palm trees are a great choice. There root structures are non intrusive and thrive in the Central Florida's sandy soils.
21. Will vines kill trees? * Vines will not directly kill trees but they can tend to cover the canopy, which could smother your tree. It is recommended to sever the vines from their roots at ground level to kill the vine, thus protecting your tree and to prevent damage caused by extracting live vines from your tree.
22. What is a Certified Arborist? * Certification is a standard for Arborist's
internationally and is administrated by the International Society of Arboriculture.
23. Why can't I remove a tree on my own property? * You can remove only trees which have been permitted or that are an exempt nuisance tree according to local city and county laws.
24. What is a grand tree? * A grand tree is a tree of larger stature and of more value to the community as designated in ordinance of your local municipality. These trees have special protection regarding pruning and removal. They must be reviewed and permitted by local inspectors of the municipality.

Here are some of the areas we serve in and around the Tampa Bay area:
Tampabay Florida, Egypt Lake, Leto Florida, Lake Magdalene, Mango Fl., Brandon Fl., Hudson Fl., Citrus Park Fl., Odessa Fl., Bloomingdale Fl., Oldsmar Fl., Lutz Fl., Safety Harbor Fl., Pinellas Park Fl., Saint Petersburg Fl., East Lake Fl., Dunedin Fl., Lutz Fl., New Tampa, Wesley Chapel Fl., Land o' Lakes Florida, Citrus Park Fl., Westchase, Carrolwood, Waterchase, Westwood Lakes, Channelside, Sun City Center, Brandon Fl., Riverview Fl., Valrico Fla., Lithia Pinecrest, Bloomingdale, New Port Richey Fl., Fish Hawk, Palm Harbor Fl., Rivercrest, Safety Harbor Fl., Channelside ,Ybor City, Spring Hill Fl., South Tampa, Hyde Park, Davis Island, Palma Ceia, Bayshore, Apollo Beach Fl., Clearwater Fl., Alifia, Brentwood Hills, Four Wind Estates, Heather Lakes, Lakeview Village, Providence Lakes, Town n' Country, Brooksville Fl., Tarpon Springs Fl., Trinity Fl., Zephyrhills Fl.
Tree Service Tampa - Certified Arborist - Tree Installation Tampa Florida - Tree Work Tampa - Brush Removal - Hurricane Clean ups - Tree Maintenance Tampa - Tree Removal Tampa - Tree Surgery Tampa Fl. - Stump Removal Tampa Fl. - Stump Grinding Tampa Fl.- Brick Paver Driveways Tampa-Brick Paver Repairs Tampa Florida- Brick Paver Sealing Tampa-Brick Paver installation Tampa Fl.-Retaining Walls Tampa Florida - Landscape Designs Tampa Fl. -Accent Lighting Tampa- Low Voltage Landscape Lighting Tampa Fl. - Roof Gutters Tampa Fl. -Drainage Systems Tampa- French Drains Tampa Fl. - Drainage Contractors Tampa Fl. - Exotic Palms Tampa Fl. - Tropical Palm Trees Tampa - Sprinkler Systems Tampa Fla. - Irrigation Repairs & Installation Tampa Florida - Sod Installations Tampa - Sod Replacement Tampa-Sod Removal Tampa- Grading- Erosion Problems Tampa Fl. - Erosion Repairs Tampa Fl- Hardscaping Tampa Fl. - Water Intrusion and Foundation Leaks Tampa - Water Features Tampa Fl. - Soggy Soil Tampa Fl. -Landscaping Tampa- Landscape Services Tampa Fl.- Landscape Clean ups Tampa- Hillsborough County- Pasco County- Pinellas County- Brandon Florida-Carrollwood- Lutz Fl.- Land O' Lakes Florida- Wesley Chapel Fla.- Valrico Fl.- South Tampa- Tampa Palms- New Tampa- Westchase- Town n' Country- Oldsmar Fl.- Tarpon Springs Fl.-Sun City Center Fl.- Apollo Beach Fl.- New Port Richey Fl.-Odessa Fl.
Emergency Tree Service- Tree Service- Stump Removal Service- Stump Grinding Service- Tree Trimming Service- Shrub Trimming Service-Prunning Service- Tree Removal Service- Tree Planting Service- Tree Transplanting Service- Tree Moving Service- Tree Clean up Service- Hurricane Tree Damage Service- Root Pruning Service- Landscape Service- Roof Gutter Cleaning Service- Drain line Service- Plant Installation Service- Plant Trimming Service-Mulching Service- Pressure Washing Service- French Drain Service- Channel Drain Service- Sod Removal Service- Sod Installation Service- Sod Replacement Service- Landscape Design Service- Landscape Lighting Service- Low Voltage Landscape Lighting Service-Brick Paver Service- Patio Remodeling Service- Retaining Wall Installation Service- Retaining Wall Construction Service- Retaining Wall Repair Service- Retaining Wall Design Service- Brick Paver Sealing Service- Brick Paver Cleaning Service- Concrete Driveway Removal Service- Tropical Palm Tree Service- Palm Tree Removal Service- Palm Tree Transplanting Service- Landscape Clean up Service-Tree Replacement Service- Palm Tree Replacement Service- Landscape Replacement Service- Freeze Damage Shrub Replacement- Freeze Damage Plant Replacement
Tampa Landscaper-Landscape Installation-Landscape Installer- Landscaper Tampabay area- Landscape Designer Tampa Fl.- Tampabay Landscaper- Tampabay Landscaping- Tampabay Landscape Designs- Tampa Landscape Installer- Tampa Fl. Landscape Clean ups and Remodeling- Experienced Landscaper Tampa- Palm Tree Removals and Installation Tampa Bay Florida- Wholesale Palm Trees Tampa Fl.- Palm Tree Installations Tampa-Tampabay Landscape Designer- Landscape Remodeling Tampa bay Fl. High quality Landscaping Tampa Fl.- Large Palm Tree Removals and Installations Tampa Bay Fla.-Landscape Contractor Tampa- Tampa Fl. Landscape Contractor- Creative Landscape designs Tampa- Exotic Palm Trees Tampa Fl.- Foxtail Palms Tampa Bay Fl.- Adonidia Palms Tampa Fl.- Christmas Palms Tampa