What is a French drain?
Standing water can be a pain. Having your pool deck, patio, or yard flood every time you get a heavy rain can be even worse. Inadequate yard draining can keep you from your chores, from enjoying your lawn, cause damage to your lawn, or it can even wear away your home's foundation, causing structural damage. These problems may seem unsolvable, but the reality is a properly installed drainage system dry out your lawn and protect your foundation. A French drain is a simple trench drain that absorbs and diverts excessive and unwanted water away from problem areas so it can drain properly. It's a home improvement solution that can reap huge benefits.
Why This is Happening to You?
What can be particularly frustrating is when your yard is overrun with water while your neighbor's yard is just fine. There are several contributing factors to inadequate drainage and some of them may apply to your yard but not your neighbor's. The two biggest factors are your lawn's soil content and its lack of contour. When water enters your lawn it sinks into the soil and displaces the air, pushing it up. Heavy, compacted clay may contain a significantly less amount of air to displace, causing water to crest above the surface of your lawn much more easily.
The ability of water to move around your lawn also greatly increases its ability to effectively drain. If your neighbor's lawn is above yours his or her rain water can be feeding into your lawn. Meanwhile, if you have a mostly level lawn, that water is just going to sit there. When these two factors are working together, they are simply waiting for the next heavy rain or your sprinkler system to turn your lawn into a swamp. Proper drainage can help protect your lawn, your home and increase your property's value. Most importantly it will allow you to enjoy your lawn and pool areas. Your children or pets can have plenty of room to run and play. You can mow and and actually walk in your back yard! Call us for an estimate!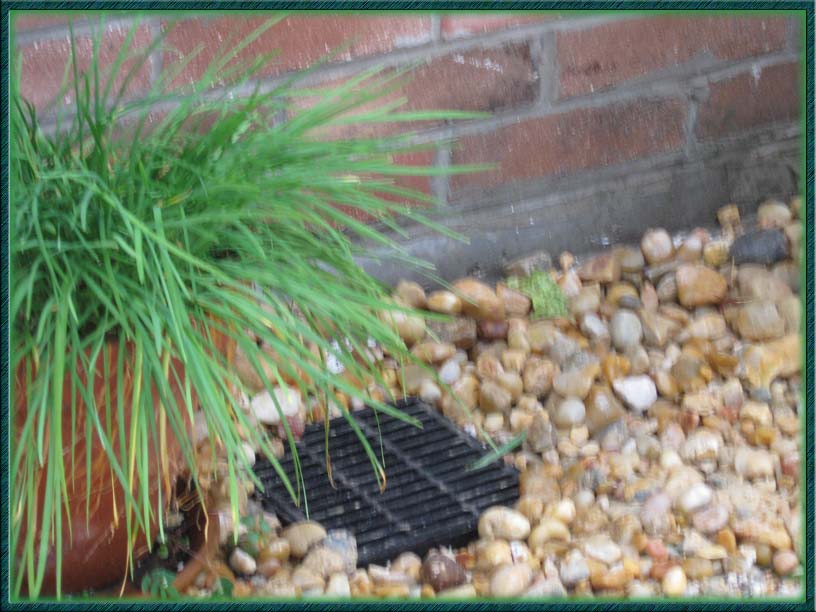 We are the number one Drainage Contractor in the entire Tampa Bay Florida area.


Controlled Landscape Services has extensive experience with Drainage problems in the Tampa Bay area.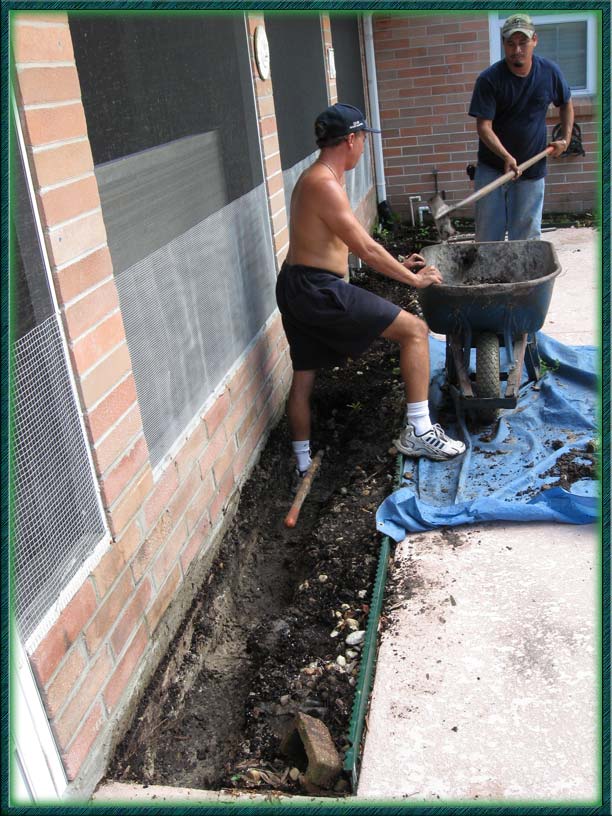 Progress is underway! The goal here was to eliminate water coming into the screened area.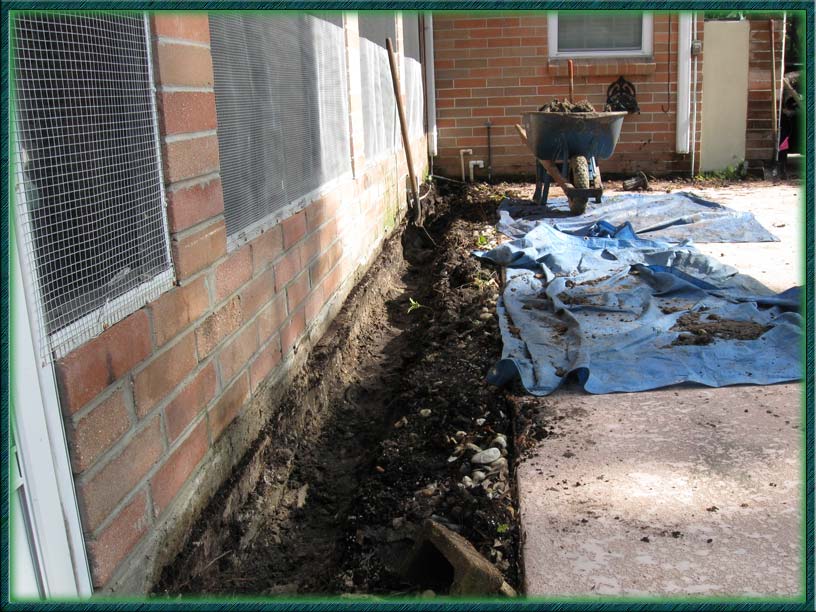 After we finished here, There was NO WATER leaking into screened area, nor any standing water.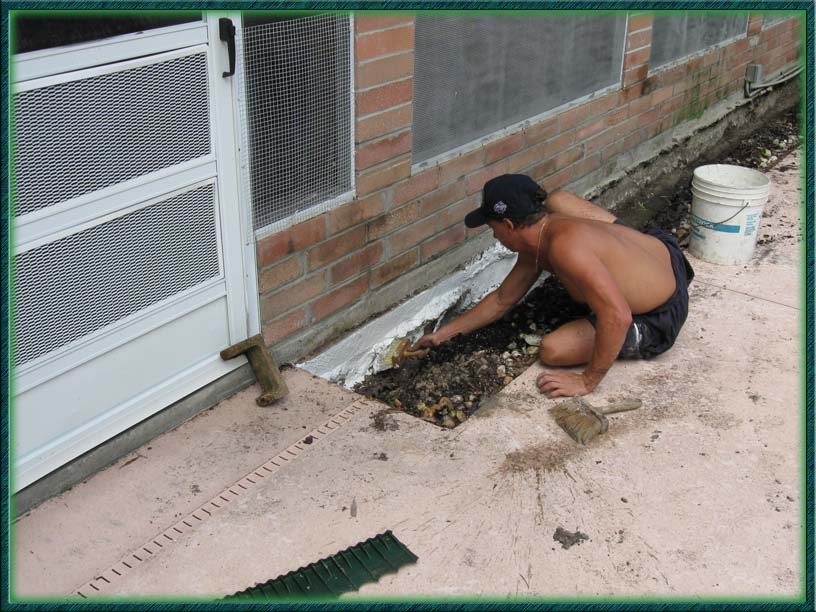 After trenches were dug and dirt removed, We applied DryLock ( Foundation Moisture Barrier ) along foundation sides,
to further eliminate the possibility of water intrusion.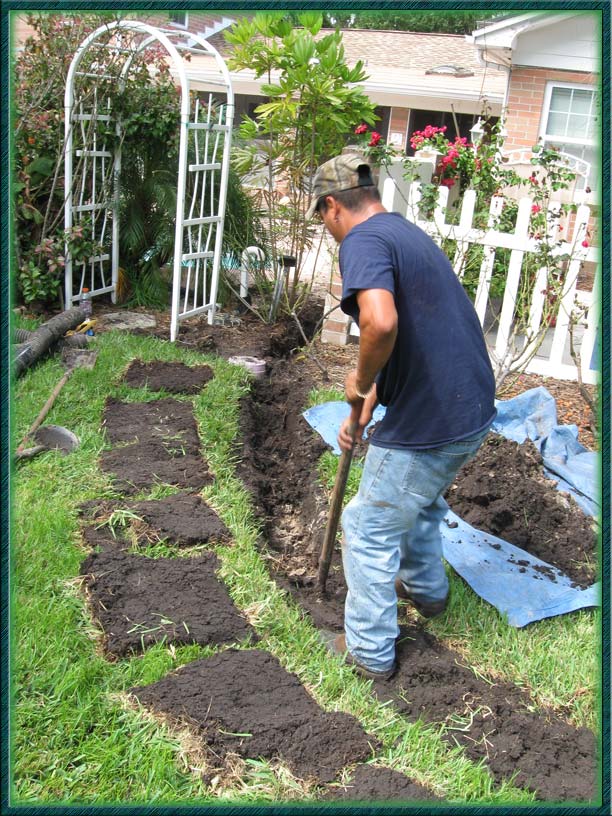 We cut the sod and set aside for re-application following drain installation.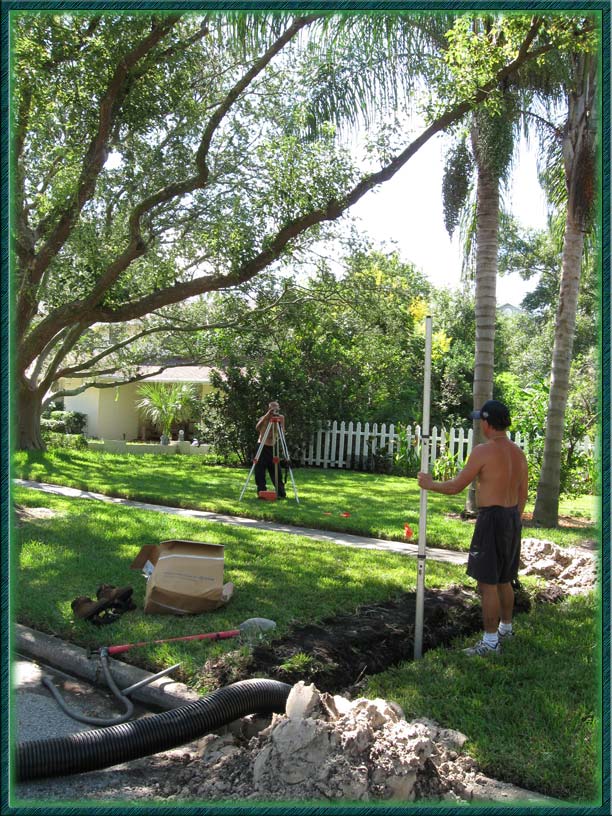 Using a Transit to survey grade, assures a proper drop or fall for perfect drainage after wards.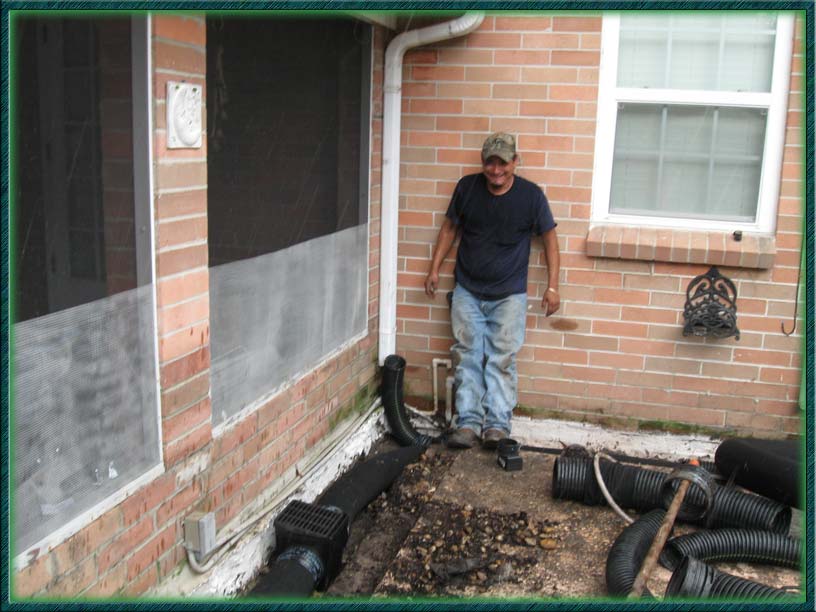 Installation of catch basins, sock tubing and roof gutter adapters, to manage diverting water, away from the house.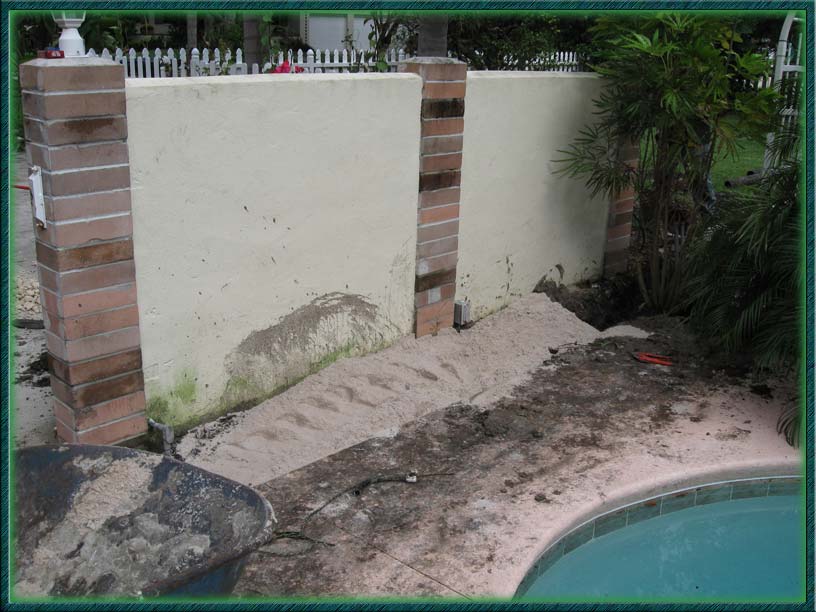 Back filling with D.O.T. coarse sand allows for percolation of water into system, via sock tubing.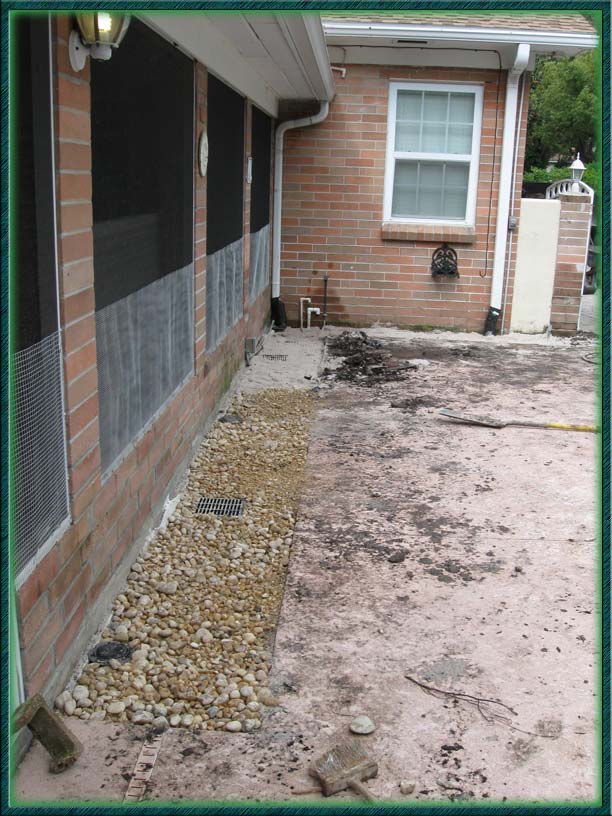 In this application, brown egg rock was used for top layer, assuring good drainage and was aesthetically pleasing.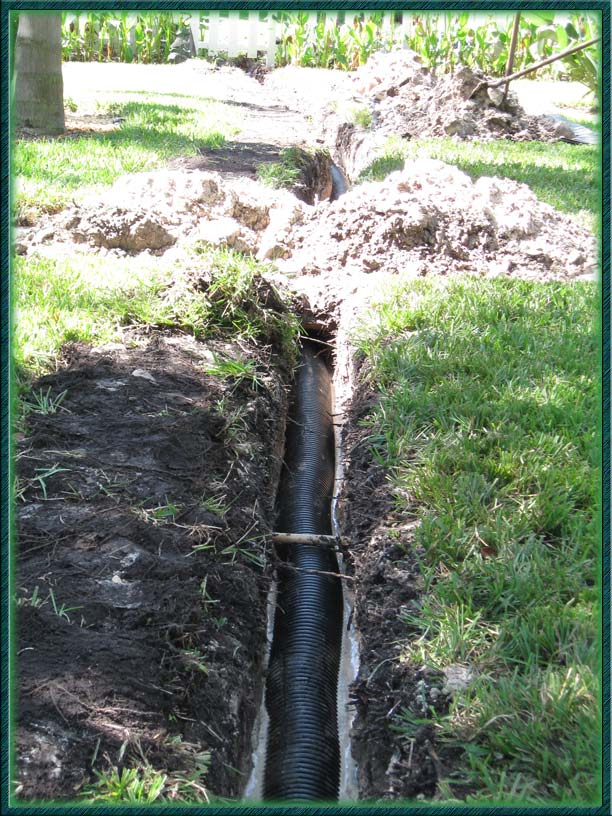 Using a beefy 6 inch line, assures better drainage capacity, and ultimately removes more water faster!!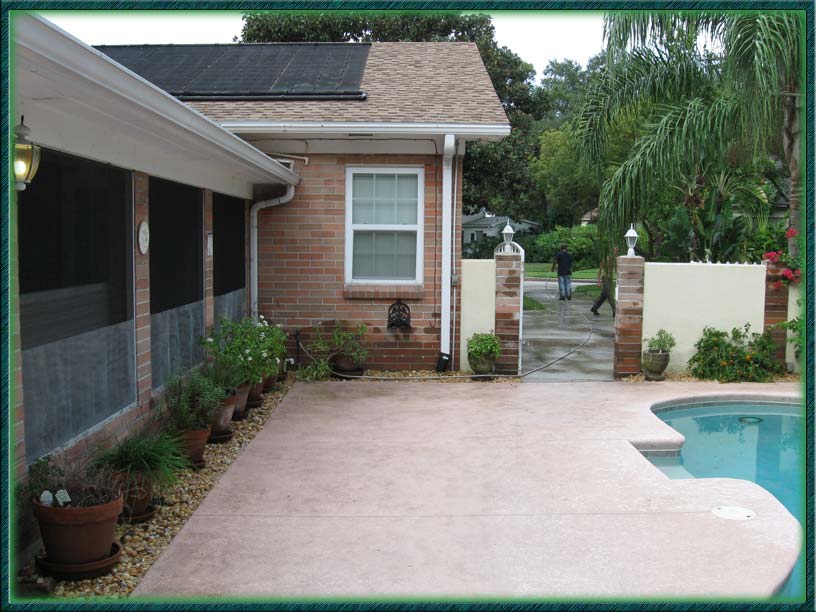 After wards you can see the area is beautiful again, and storms come now, and all water drains away perfectly!!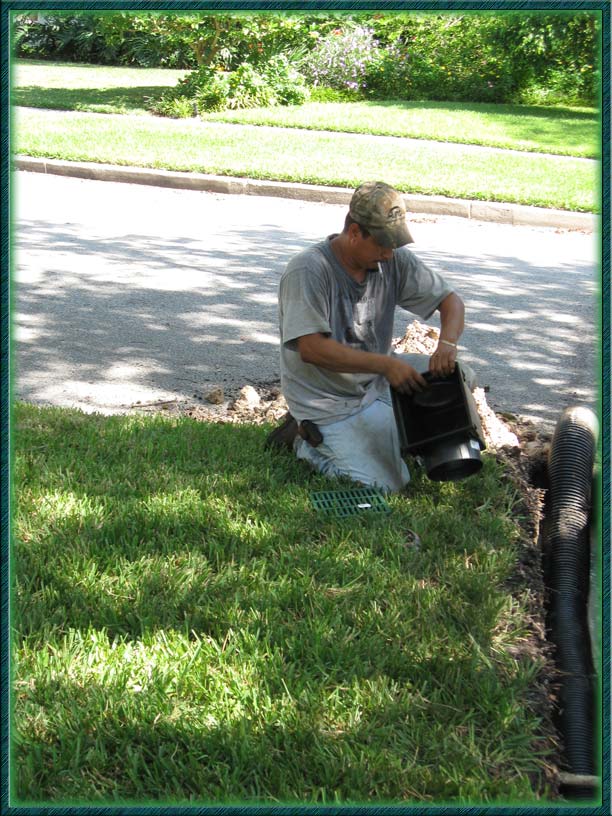 Installation of release basin at street curb.
After System and Sod are reinstalled, the ground is back to normal.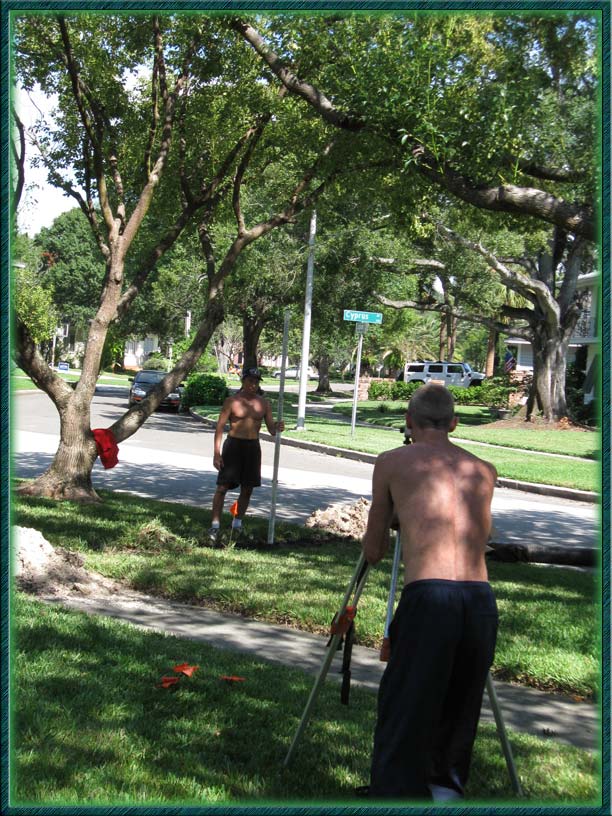 Another shot using the transit, to properly calculate drops and falls for drainage. We are always careful
and double check ourselves along the way.

Here are some of the areas we serve in and around the Tampa Bay area:
Tampabay Florida, Egypt Lake, Leto Florida, Lake Magdalene, Mango Fl., Brandon Fl., Hudson Fl., Citrus Park Fl., Odessa Fl., Bloomingdale Fl., Oldsmar Fl., Lutz Fl., Safety Harbor Fl., Pinellas Park Fl., Saint Petersburg Fl., East Lake Fl., Dunedin Fl., Lutz Fl., New Tampa, Wesley Chapel Fl., Land o' Lakes Florida, Citrus Park Fl., Westchase, Carrolwood, Waterchase, Westwood Lakes, Channelside, Sun City Center, Brandon Fl., Riverview Fl., Valrico Fla., Lithia Pinecrest, Bloomingdale, New Port Richey Fl., Fish Hawk, Palm Harbor Fl., Rivercrest, Safety Harbor Fl., Channelside ,Ybor City, Spring Hill Fl., South Tampa, Hyde Park, Davis Island, Palma Ceia, Bayshore, Apollo Beach Fl., Clearwater Fl., Alifia, Brentwood Hills, Four Wind Estates, Heather Lakes, Lakeview Village, Providence Lakes, Town n' Country, Brooksville Fl., Tarpon Springs Fl., Trinity Fl., Zephyrhills Fl.
Tree Service Tampa - Certified Arborist - Tree Installation Tampa Florida - Tree Work Tampa - Brush Removal - Hurricane Clean ups - Tree Maintenance Tampa - Tree Removal Tampa - Tree Surgery Tampa Fl. - Stump Removal Tampa Fl. - Stump Grinding Tampa Fl.- Brick Paver Driveways Tampa-Brick Paver Repairs Tampa Florida- Brick Paver Sealing Tampa-Brick Paver installation Tampa Fl.-Retaining Walls Tampa Florida - Landscape Designs Tampa Fl. -Accent Lighting Tampa- Low Voltage Landscape Lighting Tampa Fl. - Roof Gutters Tampa Fl. -Drainage Systems Tampa- French Drains Tampa Fl. - Drainage Contractors Tampa Fl. - Exotic Palms Tampa Fl. - Tropical Palm Trees Tampa - Sprinkler Systems Tampa Fla. - Irrigation Repairs & Installation Tampa Florida - Sod Installations Tampa - Sod Replacement Tampa-Sod Removal Tampa- Grading- Erosion Problems Tampa Fl. - Erosion Repairs Tampa Fl- Hardscaping Tampa Fl. - Water Intrusion and Foundation Leaks Tampa - Water Features Tampa Fl. - Soggy Soil Tampa Fl. -Landscaping Tampa- Landscape Services Tampa Fl.- Landscape Clean ups Tampa- Hillsborough County- Pasco County- Pinellas County- Brandon Florida-Carrollwood- Lutz Fl.- Land O' Lakes Florida- Wesley Chapel Fla.- Valrico Fl.- South Tampa- Tampa Palms- New Tampa- Westchase- Town n' Country- Oldsmar Fl.- Tarpon Springs Fl.-Sun City Center Fl.- Apollo Beach Fl.- New Port Richey Fl.-Odessa Fl.