Controlled Landscaping will turn this-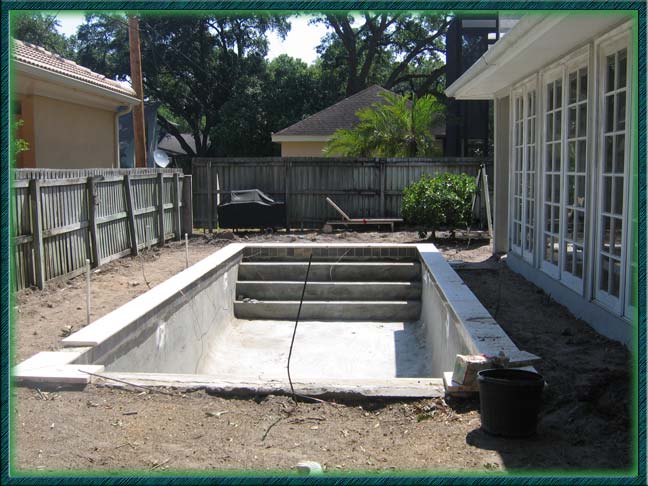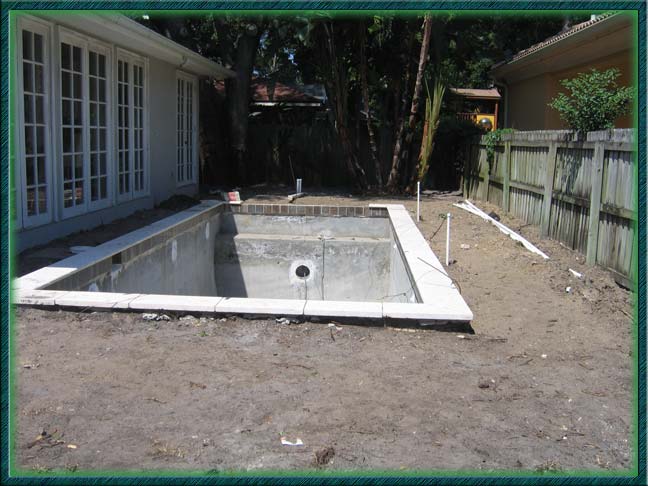 into this !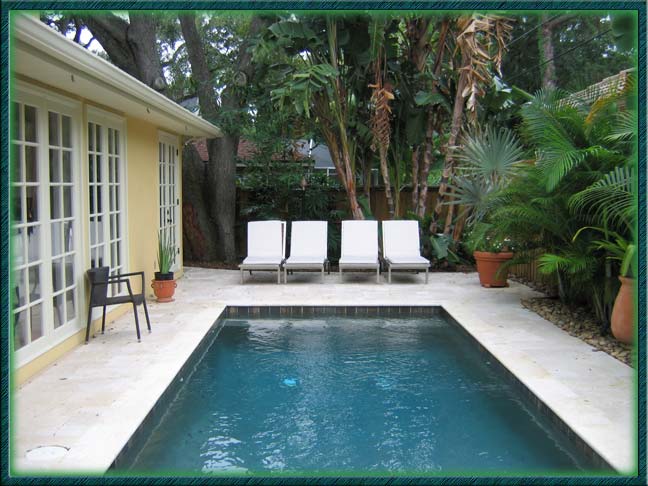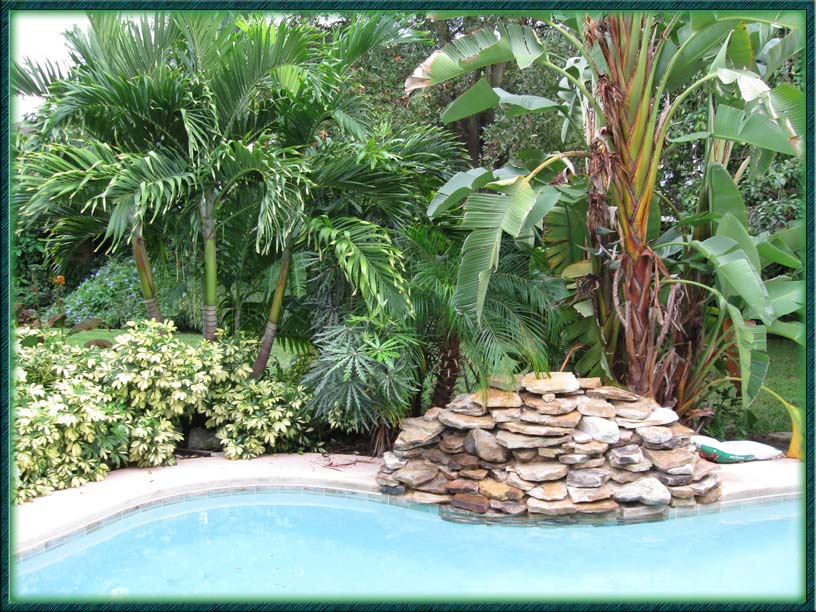 Poolscaping in Tampa Bay Florida
Poolscaping is the term used to transform a simple back yard pool into a living 'art' that produces the natural essence of mother nature herself. By adding natural stone, plantings and a waterfall to your pool, you create a powerful form of self-expression and romantic fulfillment. Waterfalls add both sound and motion to your homescape. The design of the waterfall determines the emotions it elicits--exiting or calming, energizing or restful.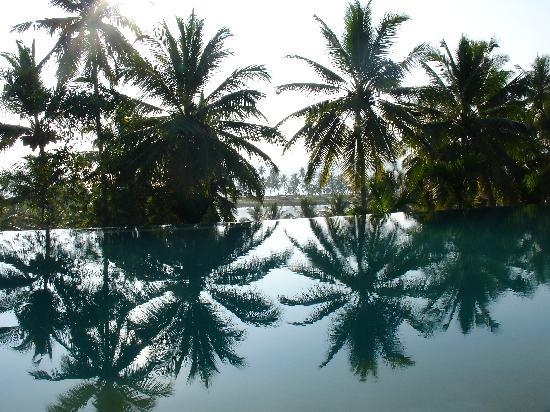 Pool owners (and there are 7 million of them across North America) have begun to see the pool and the area around it as an outdoor living space, a place for entertaining a crowd or relaxing alone. Condroled Landscaping of Tampa can help you create a pool waterfall that provides a solution for areas otherwise difficult to landscape, such as steep slopes, rocky terrain, or deep shade. A forceful waterfall helps minimize traffic noise and can minimize the intrusion of your neighbors home on your space. We can help you with inspiring ideas and practical advice on how to make your swimming pool the lovely, welcoming centerpiece of your property.
Controlled Landscaping will help design the entire project, then . . .

We can install everything except the pool shell, itself. We'll work with the pool contractor of your choice. We'll coordinate all design issues.

Controlled Landscaping can help you save time, money and frustration by providing complete and professional planning before the pool is constructed.
In helping you design your "Outdoor Living Area" we'll address such things as. . .

State and local codes
Tree removal, if required
Grading and drainage
Retaining walls and steps
Selection of materials for terraces and walks
Decks and gazebos
Privacy and views
Plantings for summer color
Selection and placement of fencing
Lighting and irrigation
Water features
Sun orientation
We can provide advice on . . .

Exact location and elevation of the pool
What should be done with the excavated soil
Where to place the pool equipment
Budgeting
Project sequence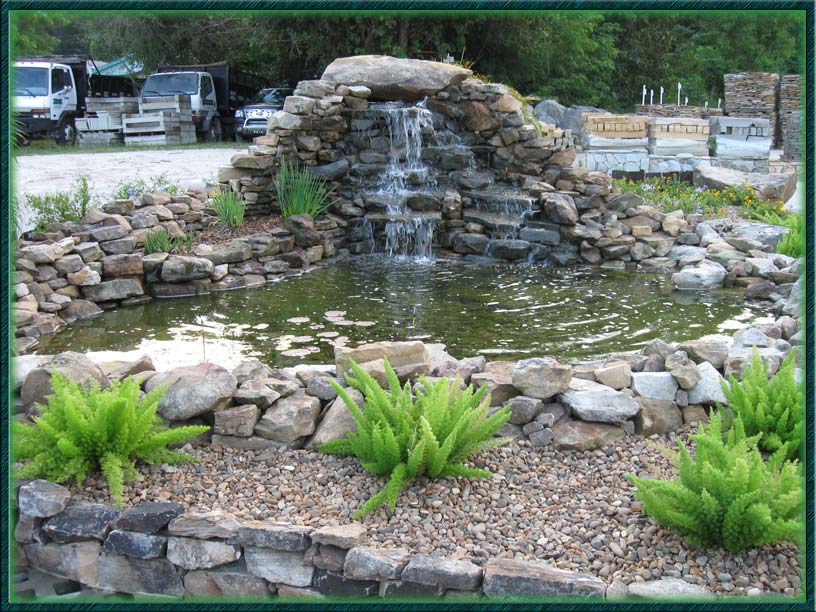 At Controlled Landscaping of Tampa, we realize that Installing a poolscape environment is a major investment. Our experience and attention to detail will help assure a dramatic result, completed within a realistic time frame and budget.

Here are some of the areas we serve in and around the Tampa Bay area:
Tampabay Florida, Egypt Lake, Leto Florida, Lake Magdalene, Mango Fl., Brandon Fl., Hudson Fl., Citrus Park Fl., Odessa Fl., Bloomingdale Fl., Oldsmar Fl., Lutz Fl., Safety Harbor Fl., Pinellas Park Fl., Saint Petersburg Fl., East Lake Fl., Dunedin Fl., Lutz Fl., New Tampa, Wesley Chapel Fl., Land o' Lakes Florida, Citrus Park Fl., Westchase, Carrolwood, Waterchase, Westwood Lakes, Channelside, Sun City Center, Brandon Fl., Riverview Fl., Valrico Fla., Lithia Pinecrest, Bloomingdale, New Port Richey Fl., Fish Hawk, Palm Harbor Fl., Rivercrest, Safety Harbor Fl., Channelside ,Ybor City, Spring Hill Fl., South Tampa, Hyde Park, Davis Island, Palma Ceia, Bayshore, Apollo Beach Fl., Clearwater Fl., Alifia, Brentwood Hills, Four Wind Estates, Heather Lakes, Lakeview Village, Providence Lakes, Town n' Country, Brooksville Fl., Tarpon Springs Fl., Trinity Fl., Zephyrhills Fl.
Tree Service Tampa - Certified Arborist - Tree Installation Tampa Florida - Tree Work Tampa - Brush Removal - Hurricane Clean ups - Tree Maintenance Tampa - Tree Removal Tampa - Tree Surgery Tampa Fl. - Stump Removal Tampa Fl. - Stump Grinding Tampa Fl.- Brick Paver Driveways Tampa-Brick Paver Repairs Tampa Florida- Brick Paver Sealing Tampa-Brick Paver installation Tampa Fl.-Retaining Walls Tampa Florida - Landscape Designs Tampa Fl. -Accent Lighting Tampa- Low Voltage Landscape Lighting Tampa Fl. - Roof Gutters Tampa Fl. -Drainage Systems Tampa- French Drains Tampa Fl. - Drainage Contractors Tampa Fl. - Exotic Palms Tampa Fl. - Tropical Palm Trees Tampa - Sprinkler Systems Tampa Fla. - Irrigation Repairs & Installation Tampa Florida - Sod Installations Tampa - Sod Replacement Tampa-Sod Removal Tampa- Grading- Erosion Problems Tampa Fl. - Erosion Repairs Tampa Fl- Hardscaping Tampa Fl. - Water Intrusion and Foundation Leaks Tampa - Water Features Tampa Fl. - Soggy Soil Tampa Fl. -Landscaping Tampa- Landscape Services Tampa Fl.- Landscape Clean ups Tampa- Hillsborough County- Pasco County- Pinellas County- Brandon Florida-Carrollwood- Lutz Fl.- Land O' Lakes Florida- Wesley Chapel Fla.- Valrico Fl.- South Tampa- Tampa Palms- New Tampa- Westchase- Town n' Country- Oldsmar Fl.- Tarpon Springs Fl.-Sun City Center Fl.- Apollo Beach Fl.- New Port Richey Fl.-Odessa Fl.