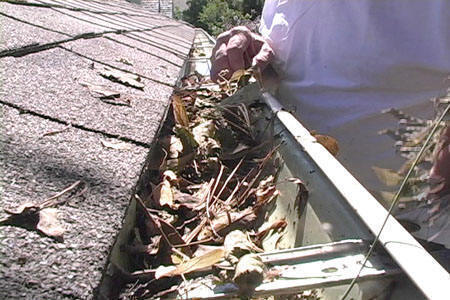 Why should I clean my roof?

* Aesthetics. Keep your house beautiful.
* Roof longevity. Get the most life out of your roof.

*Health. Mold causes allergies.

*Value. Protect your investment.

*Energy costs. A stained roof = higher energy bills
Low Pressure Roof Washing

Did you know that besides being an eye sore, the algae holds water within shingles causing premature aging, rotting, and can shorten the life of your shingles by dislodging the granules that protect and give your shingles color? Also, the dark color of the algae causes your roof to become less reflective and start absorbing and retaining heat which raises your utility bills making your home less energy efficient.
Black streaks on asphalt shingles is known as roof algae. It will only get worse if not taken care of. Algae likes to thrive on the north side roofs where the proper amount of shade is present. It feeds on the crushed limestone that is used in asphalt shingles. Rain spreads the algae down the roof causing unsightly black streaks. Eventually, the algae will take over the entire roof. We can kill and remove the algae, using contractor grade cleaners and low pressure, making your roof look new again.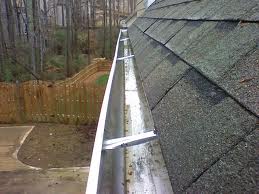 Gutter Cleaning

As a homeowner, you know someone has to clean the gutters. It must be done to maintain efficient water flow and drainage off your roof and away from your home.

Gutter interiors should be cleaned out in the spring and again in fall, to keep them from getting clogged and causing drainage problems. Properly cleaning your gutters will eliminate clogged gutters and down spouts, and the resulting water damage problems than can occur. By using Controlled Landscape Services you can have your gutters cleaned and keep this damage from happening without doing it yourself! We will clean out all of your gutters, including down spouts, and take the compost with us.
Once your roof gutters are cleaned we can also install screens for your gutters to help prevent your roof gutters from becoming clogged with leaves again.
Give Controlled Landscape Services a call at 813-294-0587 to set up your roof gutter cleaning.

Here are some of the areas we serve in and around the Tampa Bay area:
Tampabay Florida, Egypt Lake, Leto Florida, Lake Magdalene, Mango Fl., Brandon Fl., Hudson Fl., Citrus Park Fl., Odessa Fl., Bloomingdale Fl., Oldsmar Fl., Lutz Fl., Safety Harbor Fl., Pinellas Park Fl., Saint Petersburg Fl., East Lake Fl., Dunedin Fl., Lutz Fl., New Tampa, Wesley Chapel Fl., Land o' Lakes Florida, Citrus Park Fl., Westchase, Carrolwood, Waterchase, Westwood Lakes, Channelside, Sun City Center, Brandon Fl., Riverview Fl., Valrico Fla., Lithia Pinecrest, Bloomingdale, New Port Richey Fl., Fish Hawk, Palm Harbor Fl., Rivercrest, Safety Harbor Fl., Channelside ,Ybor City, Spring Hill Fl., South Tampa, Hyde Park, Davis Island, Palma Ceia, Bayshore, Apollo Beach Fl., Clearwater Fl., Alifia, Brentwood Hills, Four Wind Estates, Heather Lakes, Lakeview Village, Providence Lakes, Town n' Country, Brooksville Fl., Tarpon Springs Fl., Trinity Fl., Zephyrhills Fl.
Tree Service Tampa - Certified Arborist - Tree Installation Tampa Florida - Tree Work Tampa - Brush Removal - Hurricane Clean ups - Tree Maintenance Tampa - Tree Removal Tampa - Tree Surgery Tampa Fl. - Stump Removal Tampa Fl. - Stump Grinding Tampa Fl.- Brick Paver Driveways Tampa-Brick Paver Repairs Tampa Florida- Brick Paver Sealing Tampa-Brick Paver installation Tampa Fl.-Retaining Walls Tampa Florida - Landscape Designs Tampa Fl. -Accent Lighting Tampa- Low Voltage Landscape Lighting Tampa Fl. - Roof Gutters Tampa Fl. -Drainage Systems Tampa- French Drains Tampa Fl. - Drainage Contractors Tampa Fl. - Exotic Palms Tampa Fl. - Tropical Palm Trees Tampa - Sprinkler Systems Tampa Fla. - Irrigation Repairs & Installation Tampa Florida - Sod Installations Tampa - Sod Replacement Tampa-Sod Removal Tampa- Grading- Erosion Problems Tampa Fl. - Erosion Repairs Tampa Fl- Hardscaping Tampa Fl. - Water Intrusion and Foundation Leaks Tampa - Water Features Tampa Fl. - Soggy Soil Tampa Fl. -Landscaping Tampa- Landscape Services Tampa Fl.- Landscape Clean ups Tampa- Hillsborough County- Pasco County- Pinellas County- Brandon Florida-Carrollwood- Lutz Fl.- Land O' Lake