Welcome to Controlled Landscape Services of Tampa Florida. We take pride in what we do and we would love to give you a free estimate on all of your up coming projects. Give us a call at 813-294-0587.WE REALLY APPRECIATE YOUR BUSINESS!
Controlled Landscaping will provide the complete installation of your brick paver walkways, brick paver entryways, brick paver driveways, and brick paver pool deck needs so that your outdoor landscape will become what you've always wanted.

At Controlled Landscaping of Tampa, Florida, we can give you a brick paver driveway or brick paver patio that will set your property apart from others. Also if you have a pool deck, brick pavers will make your pool more inviting on those hot summer days.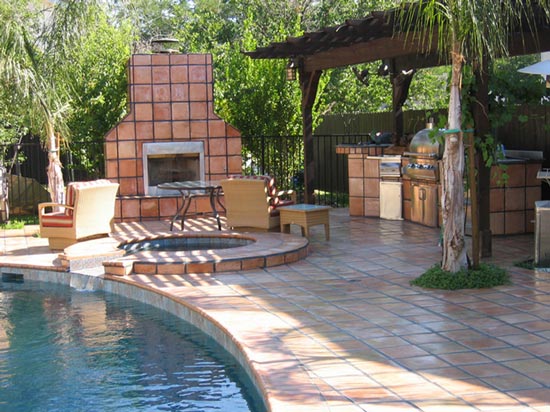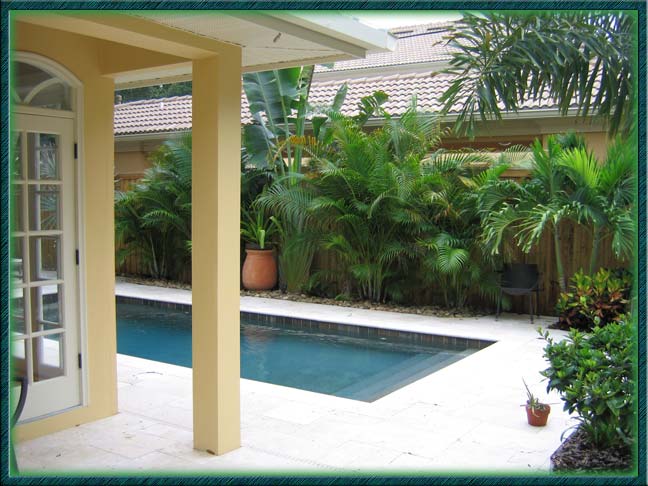 Paving stones define beauty, elegance and durability for driveways, pool decks, walkways and patios. A properly installed paving stone driveway won't crack, sag, shift or separate. It will keep looking fantastic for generations, and if it ever becomes stained or marred by paint or oil it can be repaired quickly, easily and invisibly. Individual stones can be replaced with matching ones so that the surface looks exactly as it did before the accident occurred. This is impossible with any other type of pavement.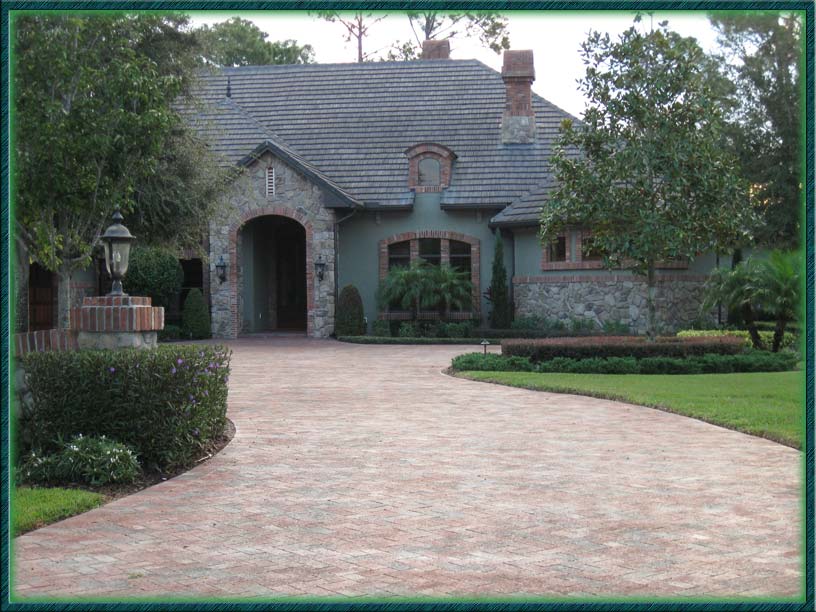 The huge range of brick paver colors and patterns available makes customized design possible for any type of courtyard, deck, or driveway. Paving stone design can look like art and we will work with you to create the perfect match for your project, whether it is brick pavers for your deck or a complete landscape design to complement your new brick paver driveway and walkways.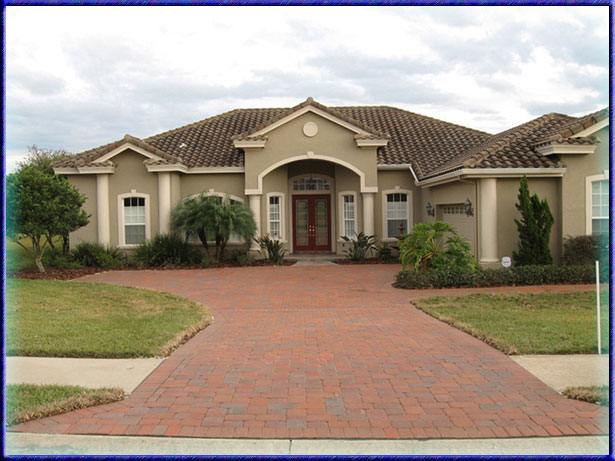 Brick paver installers know the incredible strength and long-lasting qualities of paving stones. In Europe, cobblestone streets, walkways and town squares are everywhere, many of them several hundred years old and still in perfect shape. When expensive natural stone became out of reach, Europeans weren't willing to give up the charm and elegance that only stone paving can give, so they invented a new type of paving stone (known in the industry as "interlocking brick pavers") that duplicated the beauty and strength of stone at a fraction of the price. Since that time, concrete pavers have become the pavement of choice. They became available in the US and have been increasing in popularity over the last decade as more and more people discover their beauty and practical advantages.

Controlled Landscape Services can also Seal your new or existing Brick Pavers
Call Controlled Landscaping of Tampa and let us help you enhance your home with the installation of a brick paver walkway, brick paver driveway,brick paver entryway, patio, or pool deck.
Here are some of the areas we serve in and around the Tampa Bay area:
Tampabay Florida, Egypt Lake, Leto Florida, Lake Magdalene, Mango Fl., Brandon Fl., Hudson Fl., Citrus Park Fl., Odessa Fl., Bloomingdale Fl., Oldsmar Fl., Lutz Fl., Safety Harbor Fl., Pinellas Park Fl., Saint Petersburg Fl., East Lake Fl., Dunedin Fl., Lutz Fl., New Tampa, Wesley Chapel Fl., Land o' Lakes Florida, Citrus Park Fl., Westchase, Carrolwood, Waterchase, Westwood Lakes, Channelside, Sun City Center, Brandon Fl., Riverview Fl., Valrico Fla., Lithia Pinecrest, Bloomingdale, New Port Richey Fl., Fish Hawk, Palm Harbor Fl., Rivercrest, Safety Harbor Fl., Channelside ,Ybor City, Spring Hill Fl., South Tampa, Hyde Park, Davis Island, Palma Ceia, Bayshore, Apollo Beach Fl., Clearwater Fl., Alifia, Brentwood Hills, Four Wind Estates, Heather Lakes, Lakeview Village, Providence Lakes, Town n' Country, Brooksville Fl., Tarpon Springs Fl., Trinity Fl., Zephyrhills Fl.
Tree Service Tampa - Certified Arborist - Tree Installation Tampa Florida - Tree Work Tampa - Brush Removal - Hurricane Clean ups - Tree Maintenance Tampa - Tree Removal Tampa - Tree Surgery Tampa Fl. - Stump Removal Tampa Fl. - Stump Grinding Tampa Fl.- Brick Paver Driveways Tampa-Brick Paver Repairs Tampa Florida- Brick Paver Sealing Tampa-Brick Paver installation Tampa Fl.-Retaining Walls Tampa Florida - Landscape Designs Tampa Fl. -Accent Lighting Tampa- Low Voltage Landscape Lighting Tampa Fl. - Roof Gutters Tampa Fl. -Drainage Systems Tampa- French Drains Tampa Fl. - Drainage Contractors Tampa Fl. - Exotic Palms Tampa Fl. - Tropical Palm Trees Tampa - Sprinkler Systems Tampa Fla. - Irrigation Repairs & Installation Tampa Florida - Sod Installations Tampa - Sod Replacement Tampa-Sod Removal Tampa- Grading- Erosion Problems Tampa Fl. - Erosion Repairs Tampa Fl- Hardscaping Tampa Fl. - Water Intrusion and Foundation Leaks Tampa - Water Features Tampa Fl. - Soggy Soil Tampa Fl. -Landscaping Tampa- Landscape Services Tampa Fl.- Landscape Clean ups Tampa- Hillsborough County- Pasco County- Pinellas County- Brandon Florida-Carrollwood- Lutz Fl.- Land O' Lakes Florida- Wesley Chapel Fla.- Valrico Fl.- South Tampa- Tampa Palms- New Tampa- Westchase- Town n' Country- Oldsmar Fl.- Tarpon Springs Fl.-Sun City Center Fl.- Apollo Beach Fl.- New Port Richey Fl.-Odessa Fl.